We are happy to announce that our next Zero Waste Festival will be held at the Science Gallery Dublin from January 25 to 26, 2020, as part of their ongoing PLASTIC exhibition. Come and join us as we learn how to vastly reduce our waste output, and make simple replacements with products that have little or no waste.
Zero Waste is all about getting as close to 'zero' as we can, in terms of the waste we produce as businesses, individuals and institutions. This Zero Waste Festival will feature some of the best Zero Waste leaders in Ireland giving talks and workshops on how to cut the waste out of your household while keeping those purse strings tight!

The PLASTIC exhibition in the Science Gallery hosts a huge variety of engaging exhibits suitable for all ages that deal with the one material we can't live with but also not without. Plastic has great power, and with great power comes great responsibility. It has changed our daily lives and our environment more than any other material. The unsustainability of our relationship with plastic is well documented, but to stop using plastic entirely is not an option.
But we can try to refuse single-use items, reduce what we consume and truly recycle valuable materials. Learn more about each of these steps during the Festival. We are currently working on finalising our schedule, so be sure to follow our social media and check back here for more updates to come.
The Science Gallery will be open from 12 pm (noon) to 6 pm on both days. The Zero Waste market and swap shops will close at 5 pm, so come early to avoid disappointment.
Tickets
The event is free to attend and open for all. You can get your free ticket on Eventbrite (No need to print! It's just for us to have an idea about how many people to expect…).

Venue
The festival will be hosted at the Science Gallery in Pearse Street, Dublin 2, from 12 noon to 5 pm on Saturday 25th and Sunday 26th of January. The Zero Waste Festival will be part their ongoing PLASTIC exhibition, so make sure to check that out as well.
The venue is fully wheelchair/buggy accessible.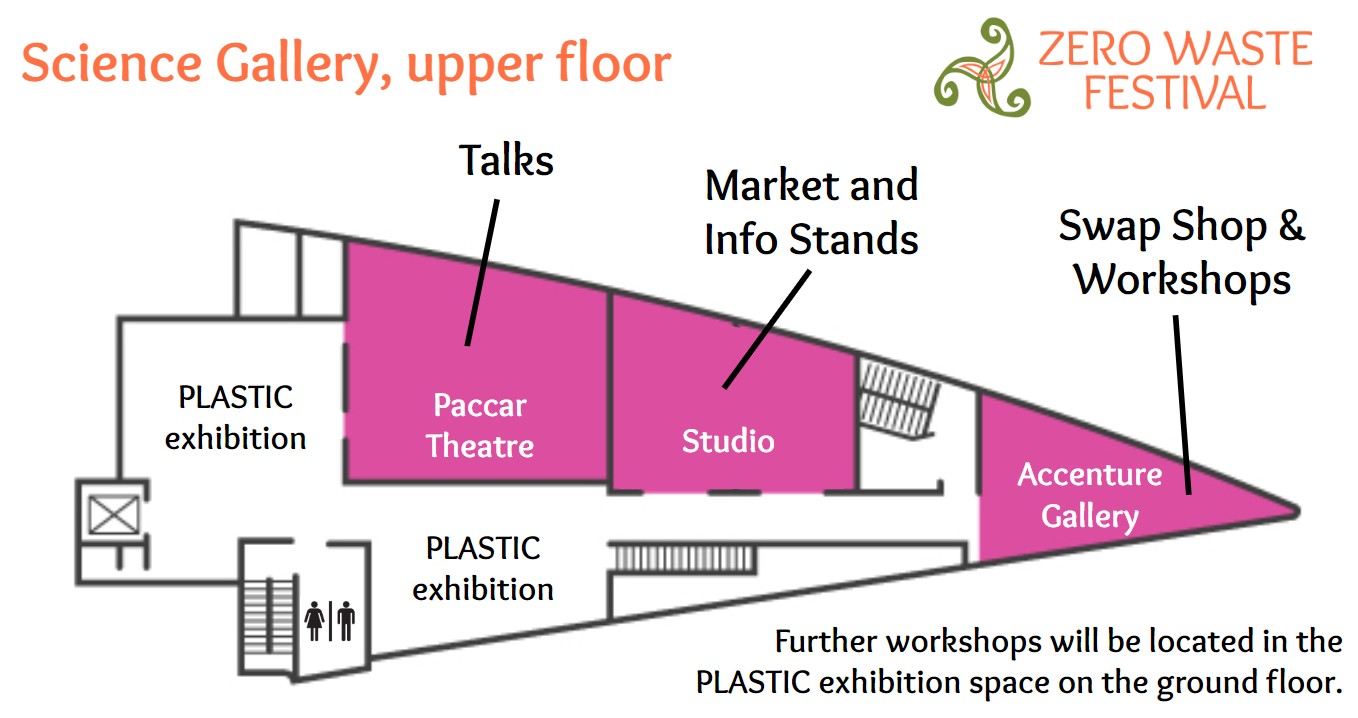 How to get there?
The Science Gallery is located right in the heart of Dublin, at the north-east end of Trinity College. You can plan your trip to the Science Gallery with public transport (Bus and LUAS) by using the Transport for Ireland Journey Planner.
The Trinity LUAS stop on the Green line is just 500 m away and all buses going along Pearse Street bring you close enough to the Science Gallery.
There are bicycle racks on campus and plenty of Dublin Bike stations in the area, including one just right in front of the Science Gallery.
What's on?
Here are the full schedules for both Saturday and Sunday (click on the picture to get a higher resolution image). You'll find more info below.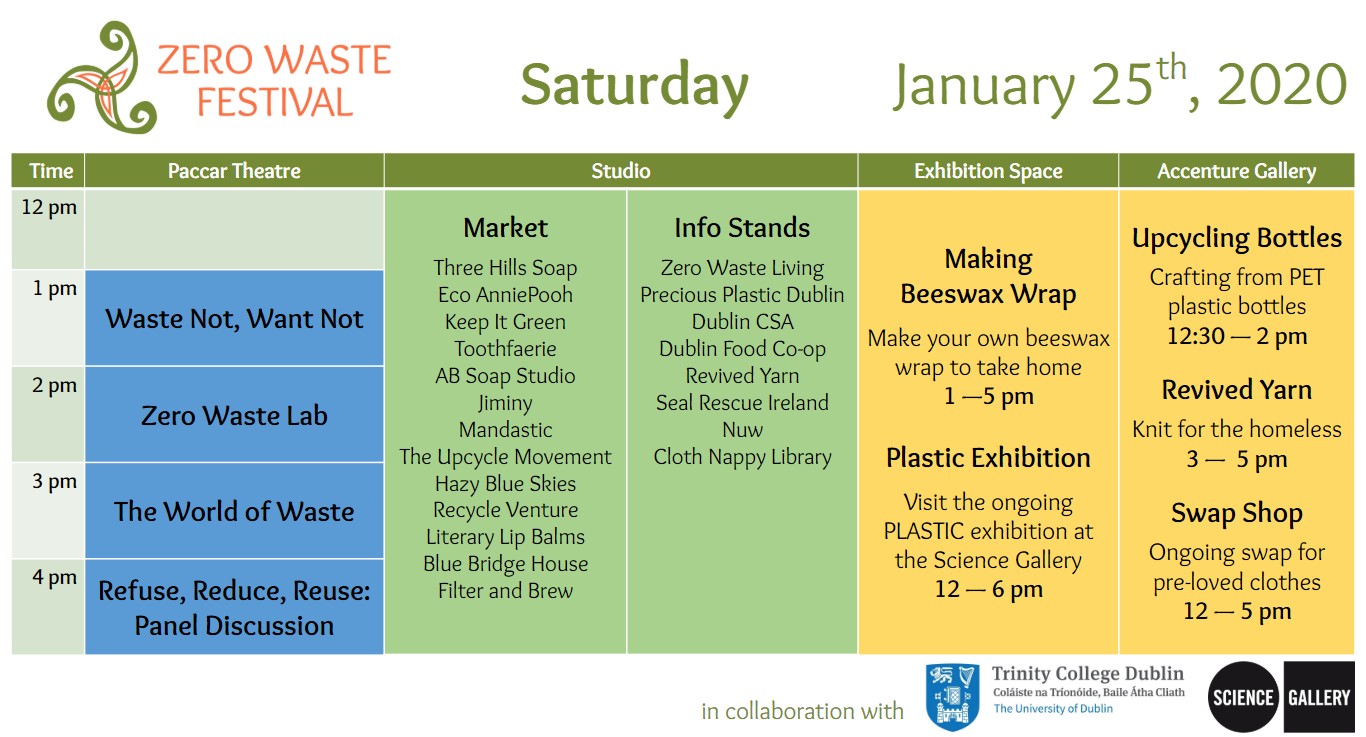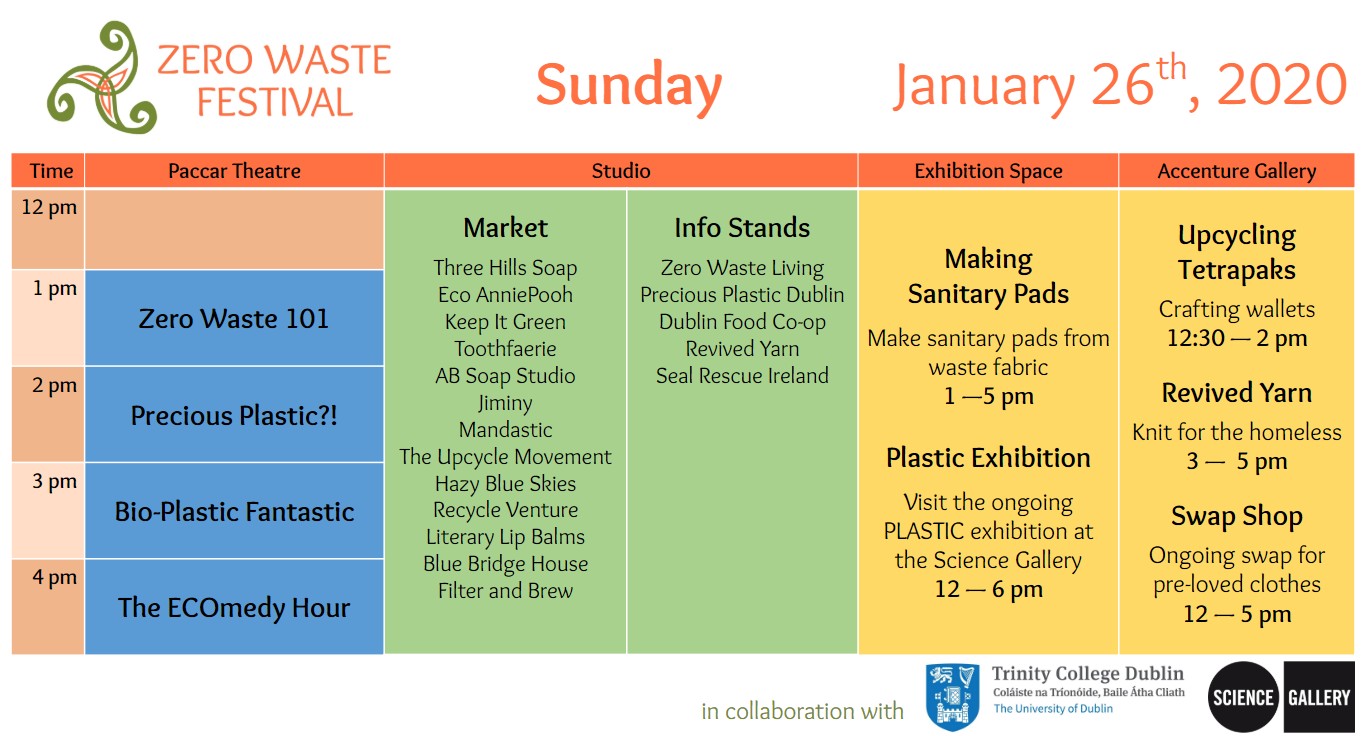 Talks in the Paccar Theatre
Saturday, January 25
Saturday, 1pm - Waste Not Want Not
Saturday, 2pm - Zero Waste Lab
Saturday, 3pm - The World Of Waste
Saturday, 4pm - Panel Discussion
13:00 – 13:45
Waste not want not: The danger and value of our bin content with Brian Kelleher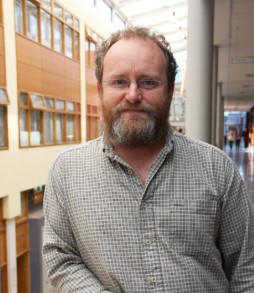 Brian Kelleher is an environmental chemistry lecturer in the School of Chemical Science, Dublin City University. Much of his research involves the investigation of carbon and its transformation from one medium to the next, be it during the search for extra-terrestrial life or the recycling of waste. Brian will talk about opportunities and challenges for high value solutions for municipal residual waste. Although Ireland is set to meet the 2020 European target on the decrease of municipal solid waste in landfill, the targets outlined for 2030 will require an increased diversion of waste from landfill. At present, bio-stabilised residual waste is treated as waste and only approved for disposal in landfills or by incineration, which is not sustainable and contributes towards landfill capacity. There is strong evidence that compost from such waste can enhance soil nutritional status and crop productivity. A diverse range of technologies are available to convert municipal solid waste into biofuels and/or energy outputs. And Brian will talk about some of these.
14:00 – 14:45
Zero lab waste – pipe-dream or possible? with Una Fitzgerald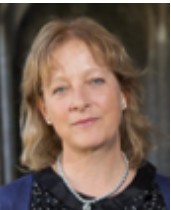 "People who work in labs are using approximately 15 times more plastic than the average person in Ireland", says Dr. Una Fitzgerald, the Director of the Galway Neuroscience Centre and a funded investigator in CÚRAM, the SFI Research Centre for Medical Devices based at NUI Galway, which is the first research lab in Europe to be awarded Green Lab Certification, the global standard for laboratory sustainability best practice. Una will share her story of achieving this certification as part of the Galway Green Labs initiative and how a lab can lead the transitions to sustainable practises across the campus to address issues such as plastic waste, energy reduction, recycling, and water usage.
15:00 – 15:45
The World of Waste - how to get to Zero with Michele Hallahan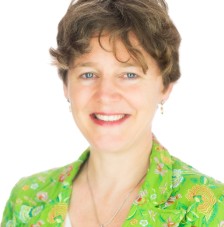 Michele Hallahan has worked in the fields of ecological design, environmental management and sustainability consulting for over twenty years. Starting with a global overview of sustainability in general, and some juicy waste statistics, she will explain the key confusing definitions and obstacles that trip us up when doing our best to recycle/reduce waste. What does 'biodegradable' mean? Is 'compostable' the same as 'recyclable' (answer: NO!), and what do the symbols on our packaging mean? How do you get on the Zero Waste journey? Being the Sustainability Advisor to the Office of the Provost at Trinity College Dublin, Michele will answer all your questions about waste.
16:00 – 17:00
Refuse, Reduce, Reuse: Zero Waste Living in Dublin (Panel Discussion)
Join us for our panel discussion on Zero Waste Living in Dublin. We will hear what saying "No!" to single-use items and unnecessary packaging means for several of our fellow Dubliners. We are happy to have the following Zero Wasters on stage for a moderated discussion, followed by an open Q&A.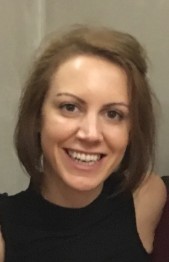 Naomi Sheridan, opened Noms just over 14 months ago, in the hope of offering a unique shopping experience to the local northside community of Phibsborough. The shop has seen steady growth over the last few months, as more and more shoppers look to make more sustainable and ethical shopping decisions. Noms stands for Natural, Organic, Mindful and Sustainable, the four pillars which Noms is built on. As climate change and plastic pollution take centre stage, Noms offers customers the opportunity to stock up their pantry without the use of any plastic packaging. Naomi has spent most of her pre-noms career working in the fast-moving consumer goods (FMCG) industry with major multinationals such as Mars Petcare, Heineken and General Mills, but decided after having her daughter, it was time to make a change, and look to follow a more holistic lifestyle.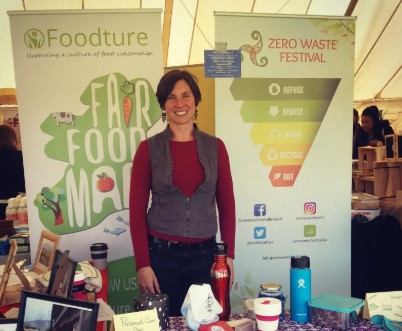 Zdenka Thunder is a zero-waste advocate who lives in Dublin and shares her tips and tricks for living a more sustainable life on her platform, Coming To Zero. If she's not working or training on her circus skills, you'll most likely find her in the garden trying to coax vegetables out of the ground or in the kitchen/laboratory where she passionately fills glass jars with everything and anything that couldn't be allowed to go to waste, after all, she is a certified EPA's Stop Food Waste trainer. Zdenka also helps to organise the Zero Waste Festival and gives the occasional workshop on practical ways to give our planet the helping hand it needs.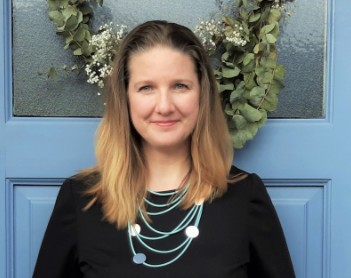 Elaine Butler of Living Lightly in Ireland is a sustainable living writer and speaker based in Dublin. She cuts through all the greenwashing out there to deliver simple, practical advice for anyone wanting to live more sustainably. She has been featured on the Irish TV programme Nationwide and in The Irish Times and The Irish Independent newspapers, appeared on the Claire Byrne Live Show on RTE and spoke on radio stations about living with less plastic. She has also given talks at the Airfield Food Festival, The Love your Home Show exhibit and Bloom in the Park.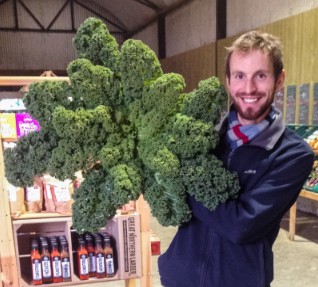 Ciarán Smyth background is in science research, and he has been working on minimising waste and consumption since 2016. In early 2017, he and his wife Íde set up the Bring Your Own market stall to provide zero-waste shopping in Dublin and the surrounding area. At the end of 2018 he teamed up with the health and wholefoods store Noms in Phibsborough to help with the package-free ethos of the store. He is particularly interested in minimising food waste, and trying to source as locally as possible.
Sunday, January 26
Sunday, 1pm - Zero Waste 101
Sunday, 2pm - Precious Plastic
Sunday, 3pm - Bio-Plastic Fantastic
Sunday, 4pm - ECOmedy Hour
13:00 – 13:45
Zero Waste 101 with Íde Mhic Gabhann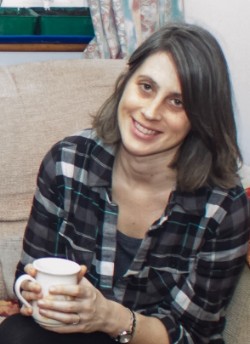 An introduction to Zero Waste. Íde will guide you through the 5R's, giving tips on easy wins and long term goals. She'll talk about how to keep motivated and the unexpected benefits!
Íde is 4 years into her zero waste journey, which began with the idea of a "buy nothing new" year to address her consumption and quickly escalated from there. An avid traveller, she questions what we consider "normal" and takes inspiration from aspects of sustainability from around the world. She believes that our individual actions will help shape future policy, that you can make any change if you really want to, and that every small change is victory… many of which she documents on Instagram as Itseasyifyouwantto
14:00 – 14:45
Precious Plastic?! – Facts and figures on global plastic abundance and what we can do about it with Celia Somlai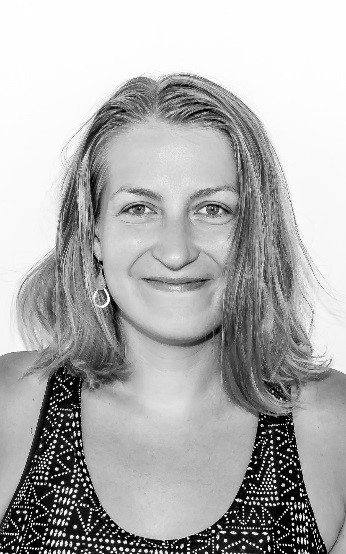 Have you ever wondered how much plastic has been generated in total on this planet? And how much of that plastic actually has been recycled? Which industry produces the largest amount of plastic annually? Or which polymer is the most commonly used worldwide? Come to this informative talk to learn not only about the latest facts and figures, but also about practical solutions to this global challenge. Celia will also introduce you to the Precious Plastic universe, an alternative, grass roots, plastic recycling community.
Celia Somlai is an environmental activist and researcher who is trying to live a low impact lifestyle. She has been deeply involved with the Zero Waste movement in Dublin for the last couple of years. She is the co-founder of Precious Plastic Dublin, a volunteer collective working on practical solutions to plastic waste in Dublin. Her personal interest and concern about the global plastic overconsumption led to her current academic research on Irish and European packaging waste statistics at UCD. You can follow her Zero Waste adventures on Instagram and her blog.
15:00 – 15:45
Bio-Plastic Fantastic with Trevor Woods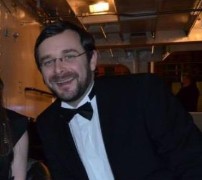 Trevor Woods who has previously carried out research on bio-degradable plastics will present a talk on current Bio-degradable plastic research and bio-degradable plastic options available to replace standard use single plastics at home and at festivals. He will also showcase how artists are communicating the current plastic pollution problem and give examples of his own recycled plastic artwork to highlight the need for plastic education and change.
16:00 – 17:00
The ECOmedy Hour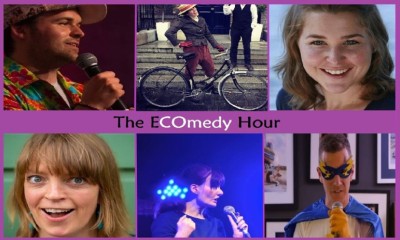 Join us for an hour of clever comedy where some of Dublin's funniest comedians will turn topical environmental issues into comedy gold. There will be no jokes wasted here!
The line-up includes Pauline Shanahan (Vodafone Comedy Festival), Elaine Gallagher (Edingburgh Fringe Festival), Gary Tyrell (Bright Club Ireland), Sean Begley (Bray Comedy Festival New Act of the Year) , Anne Gill (Comedy Gold), Ian Lynham (Vodaphone Comedy Festival) hosted by Diane O'Connor (Electric Picnic).
You will laugh, learn & leave feeling positively fired up! Find out more on the ECOmedy Hour Facebook Event.
Zero Waste Market
Want to get your Zero Waste shopping sorted? Come check our market. We will be updating our list of vendors in the next few days.
Jiminy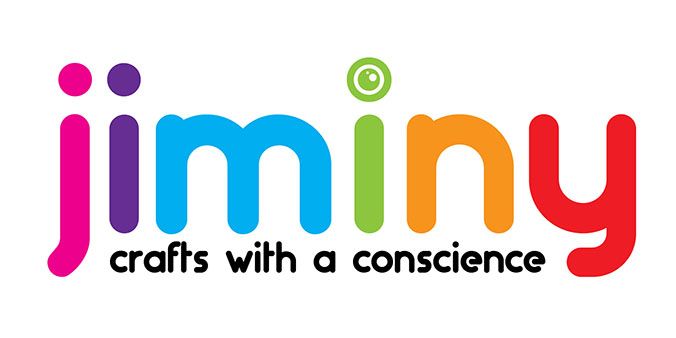 Jiminy: Crafts with a Conscience offers gorgeous, packaging-free, made-in-Europe, eco-friendly art and craft supplies and cardboard design toys, including: 3D colour-in Christmas trees, fingerpaint, bioglitter, plastic-free felt, wooden beads, kiddie crafting kits, press-build-play farm and astronaut sets. Make sure to check their website or Instagram.
Keep It Green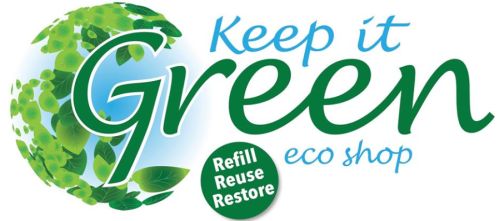 Keep it Green eco shop sell products that support sustainable lifestyles and promote the principles of reuse and refill. Their wide range of products include stainless steel bottles, bamboo, glass and collapsible coffee cups, lunch boxes and food jars, travel cutlery and reusable straws, beeswax wrap, organic cotton cleansing pads, wipes and sanitary pads, palm oil free soaps, shampoo and shaving bars. Razors and beard oil, tooth wash and toothpaste tablets, compostable dental floss, bamboo toothbrushes and cotton buds. Their products are made to last a long time and can be composted, recycled or given to someone else at the end of their life. Find out more on their Facebook.
Toothfaerie

Toothfaerie is a new and 100% Irish holistic and mineral rich toothpaste designed to heal gums and stimulate enamel growth (the stuff that whitens teeth) based on a magnesium and borax formula with cold pressed oils rich in omega 3, 6 & 9. This clay and oil pulling blend removes most stains and is safe to ingest. Sweetened with xylitol from tree sap and dragon blood tree resin from Peru to help reverse receding gums. Every batch is home-made without plastics or metals and packed by hand. For more info, check out their Facebook page.
Eco AnniePooh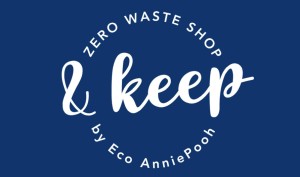 Eco AnniePooh has everything you need to make Eco Friendly living easy! For more info, check out their website, Facebook page or Instagram.
Recycle Venture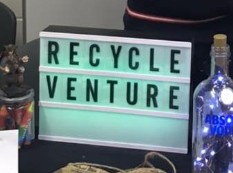 Recycle Venture is a TY Enterprise, taking recycling in another direction, making products from materials that would otherwise be dumped in landfill. For more info, check out their Facebook page or Instagram.
Happy Luna
Happy Luna is a shop with hand made reusable cosmetic products, all is made of new and upcycled materials. Check out their Facebook page for more info.
Three Hills Soap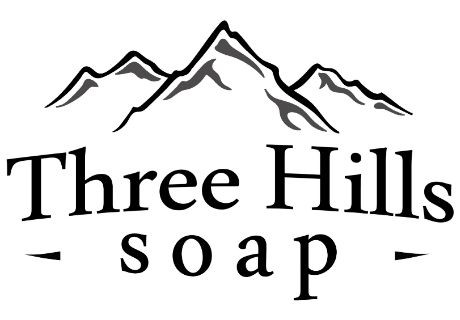 Three Hills Soap offer natural-only soaps and shampoos for sensitive, oily, combination, normal, dry, acne-prone, itchy, and irritated skin. They use only natural ingredients in all products. They only colour all products with natural plant colourants, cosmetic-grade clays and spices. Only pure essential oils are used to scent their products. Three Hills Soap is also committed to Eco-Friendly Green Packaging as they minimise packaging materials and their products packaging is 100% recycled, recyclable and compostable. Check out their website or follow them on Facebook, Twitter, or Instagram.
The Upcycle Movement

Where most see waste, we see possibility. The Upcycle Movement is an Irish Design studio specialising in upcycling products from waste materials. Neo Collection is the debut range - bags and accessories made from discarded wetsuits. Find out more about them on their Facebook or Instagram.
Blue Bridge House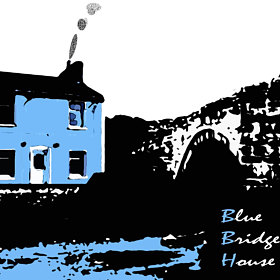 Blue Bridge House makes handmade eco-friendly reusable items such as face wipes, sponges, beeswax wraps, travel soap pouches, furoshikis and more! We love playing with ideas that can help to reduce waste, reuse, change our habits and consume differently, while looking for materials that are kind to both humans and the environment. For more info check out their Etsy store, Facebook or Instagram.
Mandastic

Mandastic.com offers high quality artistic gifts, stylishly designed and uniquely handcrafted in Dublin, Ireland, while making a positive impact on both the people and the planet. You can also find them on their website or Facebook.
Hazy Blue Skies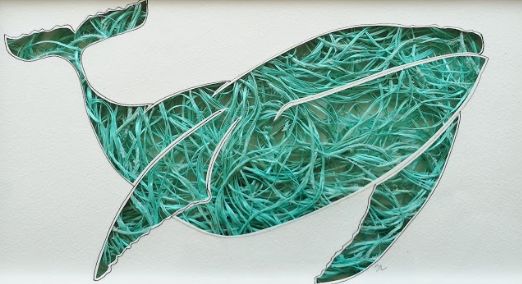 Hazy Blue Skies offers marine themed art made from repurposed fishing debris found on beach cleans in Ireland. Framed in reused shadow box frames. Also driftwood with aquatic quotes. Handmade glycerine seaweed shampoo & body bar.
Literary Lip Balms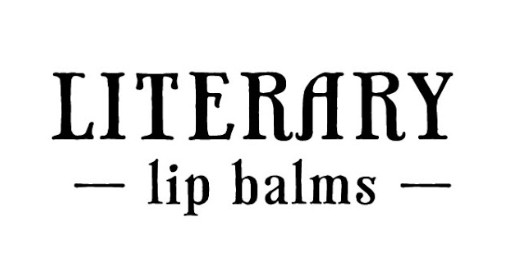 Literary Lip Balms makes natural skincare inspired by fiction. Their best-selling lip balms are carefully crafted by hand in Dublin with 100% natural and organic ingredients, and come in both reusable aluminium tins and compostable tubes. View the full range of products at literarylipbalms.com. Find out more about them on their Facebook or Instagram.
AB Soap Studio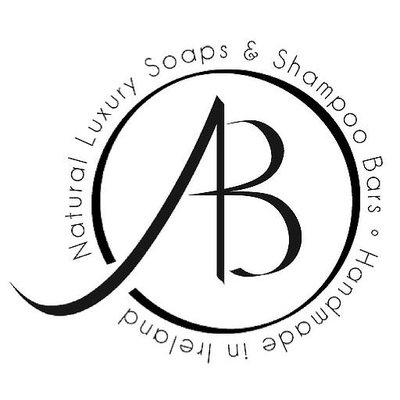 If you are aiming for plastic free and synthetic free body care, AB Soap Studio has you covered from head to toe. The AB Hair Transition set will help you adjust to natural hair care. You can browse though their new range of conditioning shampoo bars or reach for their all-time favourites, including the best-selling Rye and Hibiscus Flour shampoo, Apple Cider Vinegar shaving soap and charcoal face bar. You can also choose your favourite from the AB BABY range of soaps for delicate skin: Oat and Cocoa, Calendula with ACV and Lavender with Coconut Milk. Not just for babies! Soon to launch is the ZERO WASTE BODY CARE SUBSCRIPTION BOX, with a seasonally curated selection of their best sellers. Find out more on their Facebook.
Filter and Brew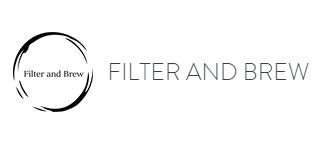 Filter and Brew is dedicated to creating unique and exciting speciality teas. They operate in a way that is eco friendly, fair and ethical and use only the finest ingredients to create blends to savour. Make sure to check their website for what they have to offer, or check out their Instagram.
Info Stands
As always we invite a good few great local initiatives and community groups to present their work at our Festival.
Zero Waste Infostand

Chat to one of our Zero Waste Lifestyle experts and learn where to start, clear up misconceptions or be inspired on the next steps to take at our Zero Waste Info Stand. We can show you some easy swaps to get away from single use items, explain the 5R's of Zero Waste, talks about a zero waste wardrobe, and share stories about our journey to Zero Waste.
Precious Plastic Dublin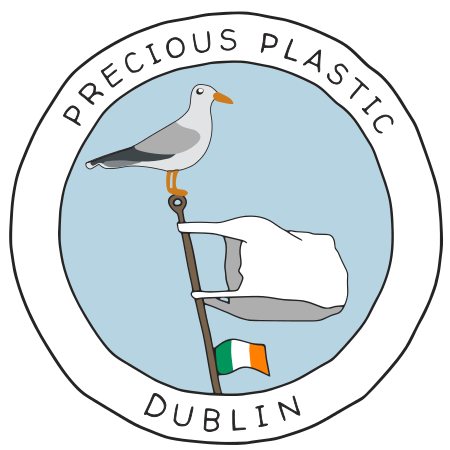 Precious Plastic Dublin is a volunteer collective working on practical solutions to reduce plastic waste and pollution in Dublin. As part of the Precious Plastic global movement, they aim to bring plastic recycling closer to the local community. As a special for the Zero Waste Festival they will set up collection boxes for HDPE bottle caps at their stall, so make sure to collect and bring them with you on the day for recycling. You can check out their website and Instagram feed. They also tweet @DublinPlastic.
Revived Yarn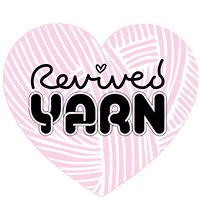 Revived Yarn is a community of knitters and crocheters who help to warm the homeless of Dublin. They upcycle leftovers of yarn into handmade garments donated directly to the homeless on the streets. Find out more about Revived Yarn on their website www.revivedyarn.com or Facebook page.
Seal Rescue Ireland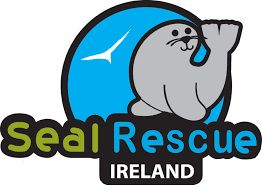 Seal Rescue Ireland is a charity based in Courtown Co. Wexford, which works hard to rescue, rehabilitate and release sick, injured and orphaned seal pups from the coastline of Ireland while also placing a strong focus on environmental and wildlife education and engaging the public in proactive conservation activities. Find out more about their work on Instagram and Twitter.
Dublin Food Cooperative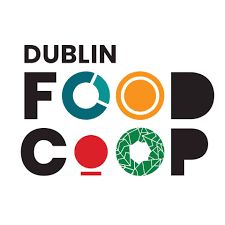 Dublin Food Co-op is a members co-operative established in 1983 by a group of friends with an aim to source good quality, affordable, sustainably sourced vegetarian food and eco-friendly products. In 2019, our aim is still the same - although now we operate out of a shop in Kilmainham and have almost 3,000 members. Dublin Food Co-op is an organisation that cares about community, the environment and education - we have demonstrated that year by launching our community development course in which we will offer courses in Co-operative Studies, Permaculture, zero waste cooking and facilitation & lectures by guest speakers on sustainability and community organising. Find out more about their work on Instagram and Twitter.
Dublin Community Supported Agriculture (Saturday only)

The Dublin CSA is a community supported agriculture group based in Dublin. CSAs involve establishing a relationship with a farmer for a growing season. The members commit to pay an agreed fee for a season and receive in exchange local and organic veggies, good for your health and good for the environment! In our case, delicious veggies grown by our farmer Stuart. Find out more about the Dublin CSA on their website, Instagram or directly at the Festival.
Cloth Nappy Library (Saturday only)

Cloth Nappy Library Ireland is a non profit organisation ran completely by volunteers. Our aim is to provide information and support for those wishing to learn more about cloth nappies. You can find them at the Zero Waste Info stand on Saturday.
Nuw (Saturday only)

Nuw is a clothes sharing app and community. Borrow beautiful clothes and accessories from people in your area and lend out pieces that aren't getting the love they deserve. You can find them also on Instagram.
Workshops
All our workshops are drop-in workshops, so just pop over any time during the workshop to learn new DIY and upcycling skills. Most workshops will keep you busy for between 10 and 20 minutes.
Saturday, January 25
12:30 to 14:00
Upcycling Plastic Bottles with Emmanuel Reynaud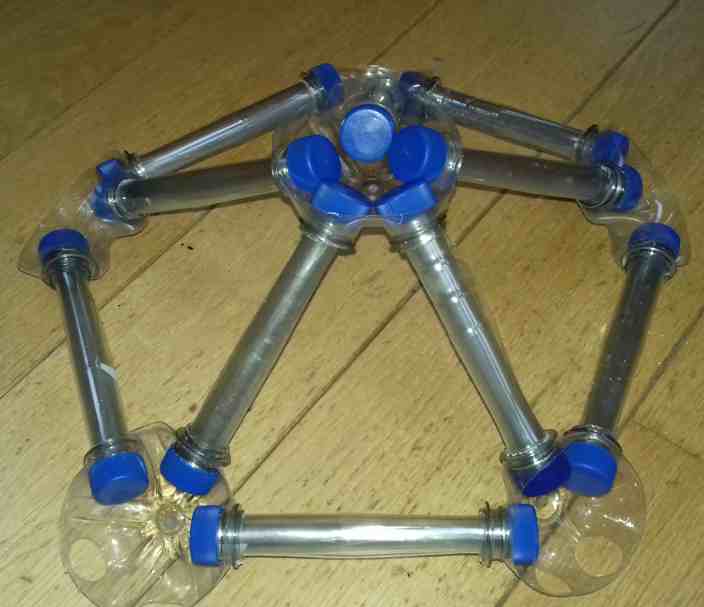 Emmanuel Reynaud who is a polymath with a need to build in a frugal manner. Raised in a remote farmland where everything must be used and preserved, he got involved in construction, electronics, optics gardening, cooking and so on. Emmanuel is a lecturer in UCD but develops open source easy to build microscopes and other scientific tools as well as provides support for major companies. Recently, he took on the challenge to reuse plastic items from our green bin to make everyday useful objects to demonstrate our wasteful ways and poor recycling policies.
Learn how to upcycle PET bottles into new, exciting things. This workshop will present a modular approach to PET bottle recycling that allow people to build not only animals (jellyfish, octopi, sea gooseberries) but also more advanced structures such as geodesic domes and other 3D geometrical shapes for design and education. People are welcome to bring their own bottles (preferentially 1.5l ones without corrugation). The workshop will also explain briefly how bottles are currently recycled and the issue with the refund scheme.
15:00 to 17:00
Knitting for the Homeless with Revived Yarn
Give a new purpose to yarn leftovers and help people affected by homelessness in Dublin to stay warmer this winter. Download a pattern of preference on www.revivedyarn.com and bring your own needles. Yarn and materials will be available at the sessions. Knitters and crocheters of all levels are welcome! The finished items will be donated to charities and organisations assisting the homeless in Dublin.
13:00 to 16:00
Beeswax Wrap Making with mediators of SG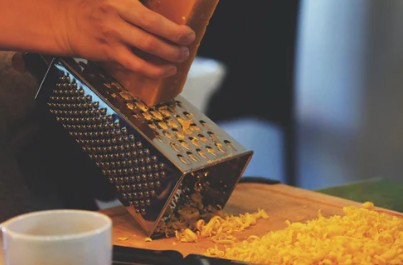 What is completely compostable, washable and can be rewaxed if needed to top your bottle of wine, carry home your bread or can even be used as a biodegradable straw? Beeswax wrap is a sustainable alternative to plastic wrap and other single-use plastics. Traditional plastic wrap is very difficult to recycle and most often ends up in landfill or in the ocean where it will possibly leach chemicals and take decades to degrade.
In this workshop, Science Gallery Dublin will provide the materials and direction you need to infuse cotton with food-grade beeswax perfect to pack a lunch, wrap your shampoo bar or bundle a bouquet. Wax wraps have so many uses and can easily be folded into makeshift bowls, water vessels and many other objects with some simple folding skills. We are reusing old cotton t-shirts for this workshop as one t-shirt takes 2,700 litres of water to make, which equates to drinking water for one person for two years!
Sunday, January 26
12:30 to 14:00
Upcycling Tetrapaks with Ruth Phelane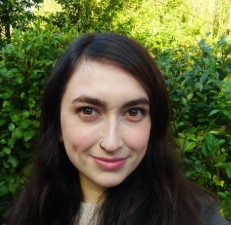 Ruth Phelane is a climate and environmental activist with Extinction Rebellion Cork, vegan advocate, artist and passionate zerowaster. She started a yearlong zerowaste challenge in April 2019 and has been documenting her efforts and experience through her Instagram page @zerowasterino.
While upcycling isn't the solution to our waste problems it's a fun place to start! This workshop will show you a couple of different methods to upcycle tetrapak cartons into very usable and surprisingly durable wallets. Bring along your favourite drink carton.
15:00 to 17:00
Knitting for the Homeless with Revived Yarn
Give a new purpose to yarn leftovers and help people affected by homelessness in Dublin to stay warmer this winter. Download a pattern of preference on www.revivedyarn.com and bring your own needles. Yarn and materials will be available at the sessions. Knitters and crocheters of all levels are welcome! The finished items will be donated to charities and organisations assisting the homeless in Dublin.
13:00 to 16:00
ENVIRONMENSTRUAL Workshop (Sanitary Pads Making) with Caoimhe Ní Bhroin
Why does one tampon take longer to degrade than the average woman's lifespan? Why aren't environmentally friendly period products highlighted in more discussions on waste reduction? Why do these products contain plastic in the first place!? An individual goes through approximately 11,000 disposable pads and/or tampons in a lifetime and these products will survive in the environment at least 500 years after their brief usage.
Learn how to make sanitary pads by recycling old fabrics and take them home as well. More info to come soon. Pads are particularly bad, with an approximate plastic content of 90%. What's worse, just one pack of sanitary pads contain the same amount of plastic as four plastic carrier bags.
Lead by Caoimhe Ní Bhroin, participants will discover the simple steps to create your own reusable period pads containing zero plastic waste. We will provide all the tools you need and ask only that participants bring prewashed cotton in the pattern of their choosing.
Caoimhe Ní Bhroin is a recent graduate of Textiles Art & Artefact from the National College of Art and Design who freelances as a sewing facilitator in Dublin. She is passionate about up-cycling and re-working old materials to make new pieces while also promoting a more conscious outlook on what we wear, buy & throw away.
Swap Shop
There will be a Clothes Swap Shop in the gallery space just above the Cafe. So, please bring your pre-loved items along, drop them off with our volunteers, and pick up what you need from the Swap Shop.
Bring your washed, and wearable clothes, shoes, and accessories to the festival. The Swap Shop will work on an item-by-item basis, i.e., for every item you bring, you will get one token that you can exchange for any other item in the Swap Shop. Since we will re-stock the Swap Shop continuously as people drop off new items, it's worth checking it out from time to time in between the talks and workshops.
The Swap Shop will be open at 12 noon and continue until 5 pm.
Also, don't worry if you run out of tokens but still find this nice pre-loved piece that would perfectly fit your wardrobe, we will have a donation box at the check-out where you can drop a coin or two to help us keep this a free event in the future.
All unclaimed items will be donated to a local charity at the end of the day.
What to bring?
For notes
There'll be no leaflets or business cards, so bring your phone, a camera or pen and paper.
For shopping
You'll need your own containers, beeswax wrap, cotton bag, etc. for your purchases, and bring some tote bags to carry your items home.
For workshops
We are looking for clean, dry tetrapaks for the tetrapak recycling workshop on Sunday as well as terry cloth material (hand towels, cloths, fleece) to be used as an absorbent layer and polyutherane laminate (baby changing pads/ breathable raincoats) which is used as a waterproof layer for the sanitary pad workshop on Sunday. You can drop these off at the festival info stand in the foyer of the Science Gallery on Saturday (all day) or Sunday (before the respective workshop starts).
For food and drinks
Bring your own mug, water bottle, lunch box and utensils. The Science Gallery Cafe and the Forum at the Trinity Buisness School will offer a 40 cent discount during the weekend if you bring your own mug and food container on coffee, hot drinks and food that you take with you. Camille Thai (just across the road) will offer a whopping 3 EUR discout on take-away food if you bring your own lunchbox on Saturday.
Stuff to swap/share/donate
Clean and wearable men's, women's and kid's clothes for the swap shop
Spare jars can be useful for other people who didn't bring enough
Bring any take-away containers you have built up to share in case people are short
Photo and video recording
We are very happy if you take photos at the festival and share them on our or your social media with the hashtags #ZWF2020SG #SustainableTrinity #SGPlastic #ZeroWasteFestival
If you would like to record videos (private and to share), please talk to us in advance or ask any of the organizers during the day. Just drop us an email at info@zerowastefestival.ie.
Under any circumstances, please be considerate of your peers and be aware that not everyone (especially visitors and their children) is comfortable with having their picture taken during the event.
We will be taking photos and recording short videos during the event itself to share on our website and social media. Feel free to talk to our volunteers during the day if you do not want to appear in our photos or recordings.
---